<! bg is white, visited links are red, unvisited are blue, text is black>
Second International Conference on Hybrid Intelligent Systems, HIS02 Universidad de Chile, 1-4 December 2002
Bill's invited talk (Tuesday 3 December)
Site Seeing around Santiago, 30 November 2003
Having arrived at Santiago airport on Lan Chile IB 7319/LA 5701 at more or less the same time as Bernard De Baets we decided we would do a spot of sight seeing. Starting from the Hotel, we made for the river, thinking we could take a quiet stroll along its bank's into the city centre.
As with North America many streets suffer from aerial wiring. This example in Provincia near Ave Ricardo Lyon, just to the west of 11 September.
Apparently the Rio Mapocho is in the wrong place! It has been moved it to one side.
Parc Metropolitano rises in the background.
The original location of Santiago was on this rocky hill top, now in the city centre. Originally protected by being in between two branches of the river Mapocho. The southern branch has long since been filled in.
---
HIS Opening Ceremony
---
During HIS'02 and in Santiago
3 December 02 we were taken to a wonderful restaurant on the fifth floor arriving as the sun was setting. Most of us had beef. The local red wine Santa Maria???, was very well regarded.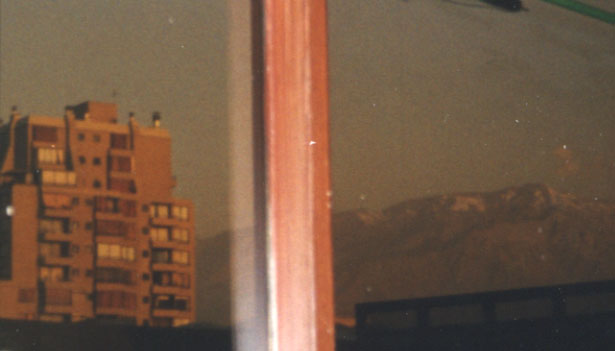 The andes mountains viewed from Santiago in the sunset. )
---
HIS'02 Banquet Tuesday 3 December 2002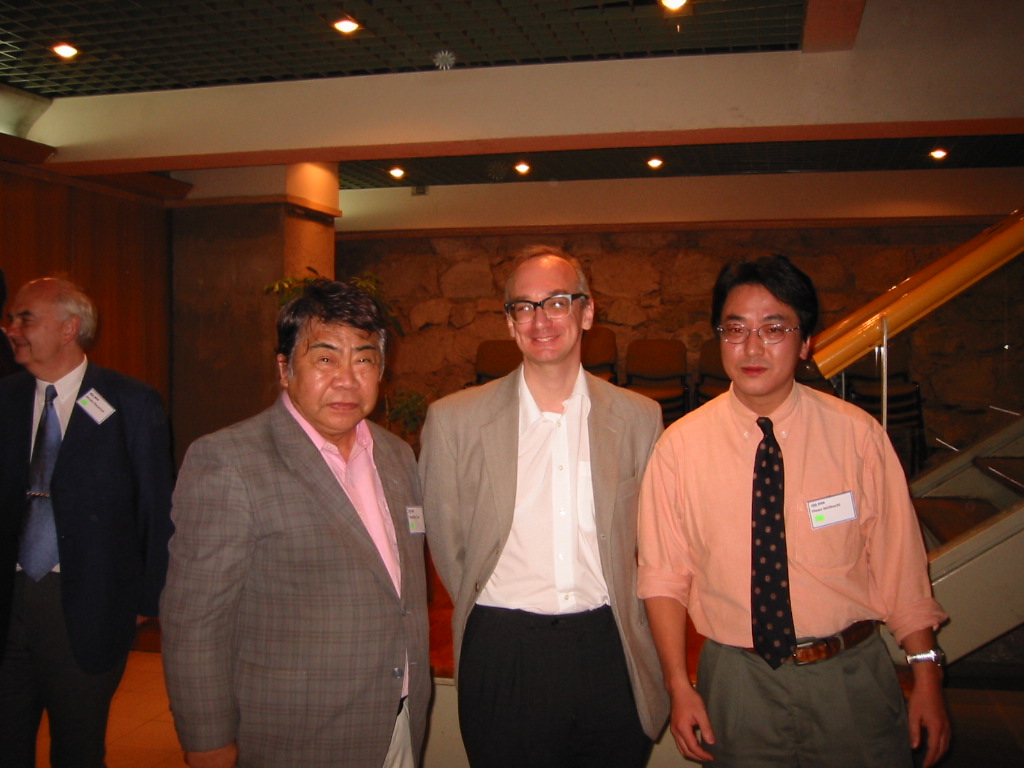 ---
Seminar 5 Dec
Pablo Estevez had invited me to the Electrical Engineering dept. (Near Parque O'Higgins) to give a seminar on the theory of genentic programming.
Gonzalo Ruz in front of the wooden database used in
Classification of Defects on Wood Boards Based on Neural Networks and Genetic Selection of Features SCI'98
---
Santiago Prepares for Christmas 7 December
Just time for one more days sightseeing. I got the underground to the Centre of Santiago de Chile.
The Chilean Army holds a parade in front of the Presidential palace.
Father Christmas is set free after having been kidnapped by space aliens
Modern down town Santiago
---