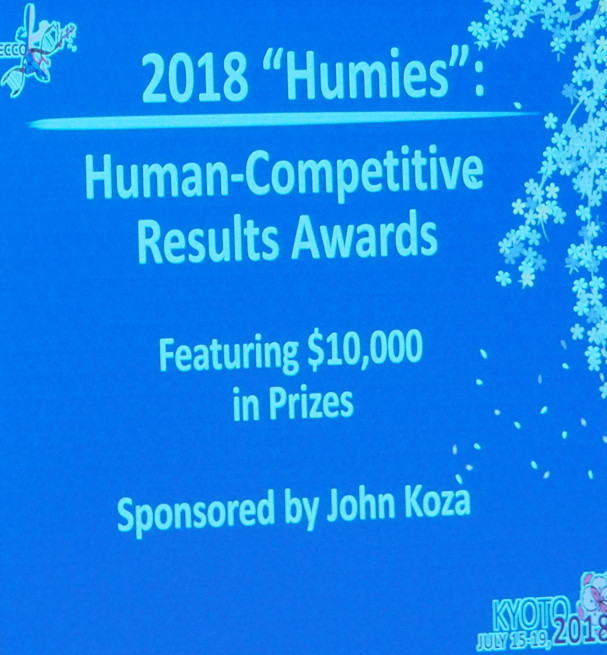 2018 awards for Human Competitive Results

Una-May O'Reilly and Erik Goodman introducing the 2018 awards for Human Competitive Results
Judges for 2018
Sixteen Excellent Entries in 2018
Judges selected nine entries as finalists
These nine presented their entries on Tuesday afternoon
Winner 2018

Erik Goodman presenting the Gold Humie to Steve Smith for A New Evolutionary Algorithm-Based Home Monitoring Device for Parkinson's Dyskinesia Lones:2017:JMS

The successful application of Cartesian Genetic Programming to resolve a challenging and life-affecting clinical condition (Parkinson's dyskinesia). Not only will the introduction of the technology significantly improve the quality of life of people with Parkinson's, but also has the potential to save the UK's National Health Service over 84 million pounds per year.

ClearSky Levodopa induced dyskinesia home monitor.
Sliver 2018

Erik Goodman presenting the Silver Humie to Samuel Champagne (Dalhousie University) on behalf of Stephen Kelly and Malcolm I. Heywood for Emergent Solutions to High-Dimensional Multi-Task Reinforcement Learning Kelly:2018:EC
Bronze 2018

Erik Goodman presenting a Bronze Humie to Prof. Emma Hart for A Hybrid Method for Feature Construction and Selection to Improve Wind-damage Prediction in the Forestry Sector Hart:2017:GECCO

Erik Goodman presenting a Bronze Humie Zdenek Vasicek and Vojtech Mrazek for Approximating Complex Arithmetic Circuits with Formal Error Guarantees: 32-bit Multipliers Accomplished Ceska:2017:ICCAD
photo by Iko Nakari
GECCO

Lesson from tea ceremony. Treasure every meeting for it will never recur
Photo by ClearSky Medical Diagnostics Ltd.
Alex' Kyoto Photos

Kyoto
Alex' Osaka Photos

Evening in Osaka
---

David R. White presenting his keynote at the genetic improvement workshop at GECCO 2018.
Alex at STOCK 10 July 2018 Tokyo

After Alex' invited talk
---
18 July 2018 (Last updated 31 July 2018)