pictures
GECCO 2007
GECCO was held on the site where Charles Darwin lived. University College London is in the heart of Londonmap. It is in Bloomsbury, with the British Museum, Covent garden, Macbeth, A Midsummer Night's Dream, etc, in the park, Soho (theatres) and Oxford Street all close by. UCL is served by no less than five underground stations. Tube map. Post Offices.
More Information
See GECCO-2007 for about electronic submission procedures, formatting details, student travel grants, the latest list of tutorials and workshop, late-breaking papers, and more.

For technical matters contact Conference Chair Hod Lipson at Hod.Lipson@cornell.edu. For conference administration matters contact Primary Support Staff at gecco-admin@tigerscience.com.
London Attractions
See it for Free

King's Cross NW1 2DB map

Tottenham Court RoadElectrical Goods

Russell Square WC1B 3QQ map

South Kensington SW7 2RL map

Leicester Square

Charing Cross WC2N 5DN map

Adjacent to The National Portrait Gallery


Leicester Square

Charing Cross WC2H 0HE map

Manchester Square

Bond Street

Baker Street W1U 3BN map

Small and densely packed with antiquities, painting and architectural curiosities which Sir John 1753-1837 collected. Remember to ask to see his architecture drawings and stay to see the oil paintings. Avoid weekends and peak hours.


Holborn WC2A 3BP map
Other London Sights
Tower of London

Tower EC3N 4AB map

Westminster SW1A 2AQ map
Queen's Palaces
Buckingham Palace

Changing of the Guard
Victoria St. James' Hyde Park Corner Green Park SW1A 1AA map

Hampton Court Palace lies on the River Thames, a couple of miles west of Kingston-upon-Thames. It can be reach by train from Waterloo in about half an hour.
Hampton Court Palace promises a magical journey back through 500 years of royal history. Discover the magnificent State Apartments of Henry VIII and William III, explore 60 acres of immaculate riverside gardens and lose yourself in the world-famous maze.
KT8 9AU map

Kensington Palace

Kensington Palace is in Kensington Gardens (Hyde Park). Queensway Kensington High Street South Kensington Notting Hill Gate W8 4PX map

etc
The oldest zoo in the world. At the north edge of Regents Park. Bus 274

Camden (easiest tube)

Chalk Farm

Saint John's Wood NW1 4RY map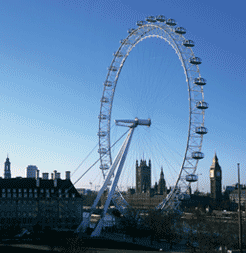 The London Eye is the world's tallest observation wheel.

Waterloo

Westminster

Charing Cross

Embankment SE1 7PB map Well worth five quid.
Return From The Market. Made of stone.

During GECCO, Arthur Gilbert's art collection, which has been shown at the Los Angles County Museum and other museums in the USA, will be exhibited beside the river Thames in Somerset House.
(Avoid the paper cup tea in the Cafe at the south end of the square with fountains).
Toilets
Large public buildings, museums, art galleries, departments stores have loos. As do restaurants. All pubs and bars have WCs for their customers, when open, mostly they will let you use them if you ask. Note: some of the smaller cafes do not. The larger London railway stations charge 20p to use their conveniences.
The WCs at UCL are scattered about the buildings. There are some underneath the South Cloister (known as South Junction). Near the shop.
Travel
To London
France and Belgium
Trains from Paris (≈2½ hours) or Brussels (≈3h) arrives at London Waterloo. The Northern line (black) leads directly from Waterloo to UCL (Warren street and Goodge Street are both within Walking distance of GECCO). map
Holland This service may have changed
Boat and train? U reist al vanaf € 39 per enkele reis per persoon van ieder NS station in Nederland naar hartje Londen. Arrive at Liverpool Street. Take the Circle line yellow or Metropolitan line purple to Euston Square, or take the Central line red to Tottenham Court Road. Tottenham Court Road is a slightly longer walk to UCL. map
LHR Heathrow Airport
LHR The worlds busiest international airport. There are 4 terminals. Terminals 1, 2 and 3 are within walking distance of each other. Terminal 4 can be reached by special (free) train.

The train service goes to London Paddington in 15 minutes (23 mins from Terminal 4). At Paddington take either Hammersmith and City purple or Circle yellow underground to Euston Square. map

The London underground Piccadilly line (dark blue) goes directly to central London (Russell Square for UCL). map. It is much cheaper than the train and generally you can use your ticket on the rest of the London Underground network, however it takes about 30 mins longer than the train. There will almost certainly be a huge queue to buy a ticket unless you use one of the ticket machines. (These take English money).
ATM
All the major English banks have automatic cash dispensers at the airport. These are usually free for UK bank accounts but may charge a small amount (one or two dollars?) for transferring money from an overseas account and converting it to english pound notes.

All the airports have many ATMs. There are literally dozens within walking distance of UCL. Cash machines are usually operate 24 hours, every day of the week.

Note some cash points (particularly in shops or bars) may charge you more to get at your money.

Map (incomplete) showing location of cash machines near GECCO-2007.

Approximate location of ATM (
multiple ATMs).
Public Telephones
Surprisingly there are a huge number of telephone boxes in London streets. You will also find some in public buildings. The minimum charge is 40p and they do not return your change.

There are at least two companies (stupid or what?). Some non-BT (mostly coloured black) prevent you calling the operator. For serious (that is other than short calls to places in central London) mostly they take a variety of special purpose cards as well as coins. Sometimes calls can be charged against your credit card, but this tends to be expensive.
LGW Gatwick Airport
LGW The direct train to London Victoria (Victoria line blue to Warren Street) are fast and frequent. Alternatively train go to London Bridge (Northern Line black to Euston) and King's Cross Thameslink. King's Cross Thameslink, depending on daylight and your luggage, is too far to walk map 12W to UCL. Instead take the Circle or metropolitan line to Euston Square map, Bus 30, 476, 73 or 205 map or taxi.
LUT Luton Airport
LUT Direct train to King's Cross Thameslink. King's Cross Thameslink, depending on daylight and your luggage, is too far to walk map 12W to UCL. Instead take the Circle or metropolitan line to Euston Square map, Bus 30, 476, 73 or 205 map or taxi.
STN Stansted Airport
STN Direct train service to central London (Liverpool Street, Circle yellow, metropolitan purple to Euston Square or Central Line red to Tottenham Court Road, longer walk, map). The train takes three quarters of an hour. There is a coach (Victoria coach station) which is much cheaper and takes much longer.

Alternatively take the train as far as Tottenham Hale, change for the Victoria tube line (light blue) and take the underground. For UCL alight at Warren Street.
BHX Birmingham International Airport
BHX It may seem like a strange idea to arrive in Birmingham but there is a fast and frequent train service to London Euston which is within sight of UCL, unfortunately the trains are vigins. However Central Trains and Silverlink offer a cheap alternative which takes about 40 minutes longer. (pdf).
In London
GECCO will be held in the center of the world's first and the largest underground railway system. This is generally the fastest and most convenient way to get around. (Estimated journey time in minutes is ≈2½ × number of stops.) London Underground does not run all night. Generally it starts to shut down about midnight (earlier on Sundays). Times of first and last trains of each day are posted near the entrance of each station.
Tickets can be brought at underground stations. At peak periods and busy stations (eg Heathrow, Victoria and other major London railway termini) there can be lengthy queues and it may be better to use one of the ticket machines. Some ticket machines give change others give operating instructions in a few european languages.
There are many discount schemes for buying tickets. Generally these are not available during rush hour. (Avoid rush hour) The simplest is perhaps a travel card. The cost varies according to which zone you wish to use. The zone are roughly concentric circles. Zone 1 is the center and zone 6 the outer most. An underground travel card is also valid for buses, and trains within the zone scheme.
If travelling by train into London, it is usually a good idea, if possible, to buy a train ticket which includes a travel card.

London also has a comprehensive Bus network. (UCLs postcode is WC1E 6BT). There is a wide spread system of night buses. Generally these run once an hour. Night buses are usually shown in black or dark grey rather than the red used for day time buses.

London's black cabs (Taxis) can be hailed from the street. These are officially licensed and are recommended. For short journeys with groups of up to 5 people that can be fast and cost effective as well as convenient. Taxis available for hire will show a yellow light on the roof. Apart from extras, taxi drivers will charge what is displayed on the meter.
Minicabs are also common. These have to be booked. You should agree a price beforehand.
UK travel
Trains

UK rail timetable (slow but less noise) noise German popup
Coaches
Generally slower but possibly considerably cheaper than trains. Always allow for traffic conditions.
Car
Avoid driving in central London.
UK Attractions
Ok too many to mention, but Wolfgang suggest's Charles Darwin's out of town home Down House, Luxted Rd, Downe, Kent.
Stratford-on-Avon
It is possible to travel to Shakespeare's birthplace and The Royal Shakespeare theatre by train. However you may be able to find a special coach excursion from London.
Students
A number of student travel grants will be available.


Cheap
1.
within walking distance
B.
(Near Telecom Tower)
C.

(Near

Russell Square)
2.

Also within ≈one mile (Northern line black to

Warren Street, 3rd stop, or buses 29 or 253). Walking distance of Camden Market.
GPO Post Offices
Post offices near conference
Possible Lunch sites
You will be in the heart of London. 99% of people will eat lunch. Sunday may require more searching. A few suggested locations are shown on the map.
Also see LSE's suggstions. ULU? IOE?
Thai Chinese Buffet 5.00???
Euston Road NW1 3AD.
Sandwiches
On fine days, eating a picnic in the main quad at UCL and Gordon Square can be nice. Tavistock square and Russel Square gardens are a little further. There are lots of sandwich places nearby. Eg Sainsbury's 145 Tottenham Court Road.
Cafe
Despite what you may have been told about the British and tea, there are far too many places supplying poor tea in London. Generally avoid ordering tea in any establishment which makes a point of serving coffee or anywhere which asks what sort of tea you want. Especially anywhere which charges a fortune for it and serves it in cardboard. You cannot treat tea with such lack of respect and expect to get away with it.
Too much Chocolate, Cafe Vergnano 1882 Leicester Square
The hot chocolate at Cafe Vergnano 1882, 62 Charing Cross Road, comes close to proving you can have too much chocolate. Never mind you can always water it down with airy cream.
Open evenings. No WC.
Frank's Oxford Circus
Franks Coffee House Great Titchfield Street. W1W 7PD. Good tea.
No WC.
Mayfair Pasta and Sandwich Bar Bond Street
61 Davies Street. W1K 5JL. Good tea.
No WC.
Evening
Soho
Wong Kei's very crowded. 41-43 Wardour Street, W1D 6PY,

Leicester Square

Stock Pot also crowded (poor tea). 18 Old Compton Street

Fiori Corner. 38 Cranbourn Street, WC2H 7AD,

Leicester Square
Other West End
Cafe Patisserie Pompidou. Good tea. 35 Villiers Street, WC2N 6ND,

Embankment

Charing Cross

My Old Dutch Pancake House good tea (but £££), 131-132 High Holborn, WC1V 6PS,

Holborn
Pu's Thai $$$ 10 Gate Street. Telephone 020 7464 2126. WC2A 3HP

Holborn
Brick Lane Shoreditch
Camden
General
Pizza Express Usually good but avoid the one in Baker Street
Hellenic
30 Thayer Street, Greek, W1U 2QP, Tel: 0207 935 1257
Other Possible Eateries
Charlotte Street is very close by
Drummond Street has several good indians (veggies)
Covent Garden and Soho are not far

Fancy

What you pay is dominated by what you drink....
The Ritz? Conran
Simpsons Nice but a bit old fashioned

Out of Town

The outside inside cafe. Market Hall, High Road, Wood Green Shopping City, N22 6YE, Wood Green Turn Pike Lane. WC in Shopping City .
Printers/Copiers
Western Printers
Western Printers, open 9:15 to 18:00 Monday-Friday Tel: 020 7631 5225 Fax: 020 7323 6512 Email: sales@western-printers.co.uk 103 Cleveland Street, W1T 6PP
Annodata print services
Annodata, open Monday-Friday, close 18:00. telphone 020 7299 4000. 140 Great Portand Street W1W 6QA.
Misc Links
http://www.hotelsrus.com/ hotwire.com
Launderette
88 Cleveland Street, W1T 6NJ
---
W.B.Langdon 15 Dec 2006 (12 August 2014)