<! bg is white, visited links are red, unvisited are blue, text is black>
Eighth workshop on Foundations of Genetic Algorithms, FOGA8 Aizu-Wakamatsu, Japan, 5-9 January 2005
Group Photograph
Masayoshi Oouchi, Shinya Ito, W. B. Langdon, x2, Alden H Wright, Dirk Arnold, w1, Hans-Georg Beyer, Silja Meyer-Nieberg, Thomas Jansen, x5, x6
Boris Mitavskiy, Rajeev Kumar, x9, x10, Chris Stephens, x11, Darrell Whitley, Mario Alberto Villalobos-Arias, Ken De Jong, Kunihiro Doi, Kazuaki Takeyasu
Photograph taken Saturday 8 Jan 05 by Lothar M. Schmitt
---
Culture Day, Friday 7 January, Tsuruga-jo Castle, Martial Arts
Pictures taken by Chris Stephens.

With snow falling outside, these ladies practise in bare feet.
---
Opening of the 2005 Sumo Season (Sunday 9 January 2005)
After the workshop we returned to Tokyo. On sunday afternoon we went to the first day of the sumo wrestling matches.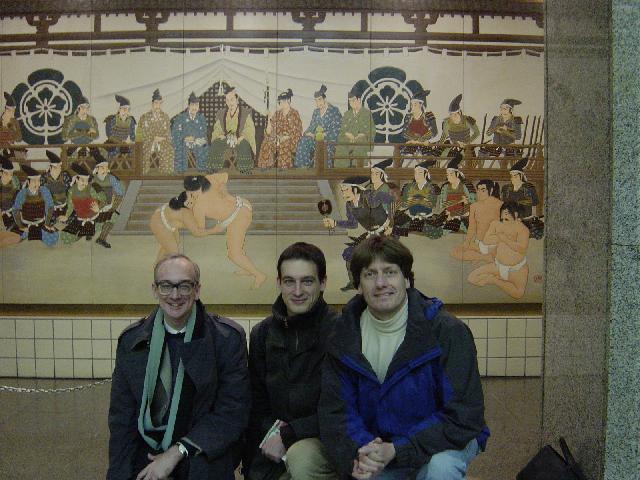 After the fight: W B Langdon, Marc Toussaint and Chris Stephens.
---
More Photographs
---