Repeated Sequences in Tree Genetic Programming
W. B. Langdon
Computer Science

Paper presented at EuroGP-2005 Pages 190-202

Introduction
Langdon + Banzhaf in Memorial University Repeated Sequences in Biology
Linear and Tree Genetic Programming
Test problems
Repeated sequences, fragments and subtrees
So what?

Where does this lead next?
Other emergent phenomena?

Conclusions
Repeats in DNA
50% of DNA is part of repetitive sequence. Many different types of repeated DNA sequence. Classified by repeat sequence length, number of repeats, location in DNA molecule etc. etc.

Some may have biological meaning, e.g. as a clock counting cell divisions and enforcing limit, cell life limited, so cancer prevented.
Repeated sequences in both expressed (protein coding) and non-expressed DNA.

DNA whose sequence is not maintained by selection will develop periodicities as a result of random crossover [G.P. Smith, 1976].
Demonstration problems
Want to run GP for many generations. Hard problems, not immediately solved.
Want range of different problems

Time series modelling. One variable, short integers (byte) arithmetic
Bioinformatics. Binary classification, floating point, 20 inputs.
Mackey-Glass Chaotic Time Series
Hard (impossible) since chaotic time series.
IEEE benchmark, 1201 data points.
Fast signal processing (integer arithmetic)
7 time lags: 1, 2, 4, …, 128 steps ago.
Mackey-Glass
Predicting Protein Location
Given only number of each amino acid (i.e. cheap info, Swissprot) in a protein, predict what it is. Very hard.
Easier: predict where the protein will be found
Animal Nuclear Proteins
Non-linear 2D projection from 20 Dimensional Space
Animal Nuclear Proteins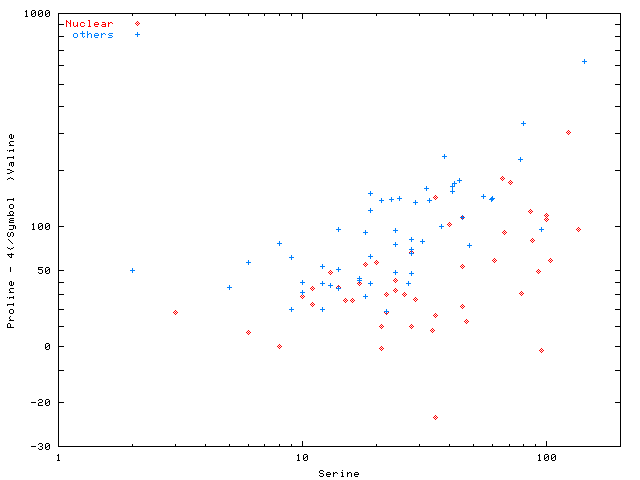 Non-linear 2D projection from 20 Dimensional Space
---
Genetic Programming Approaches
Linear GPengine (Nordin)
Linear Machine Code Discipulus
TinyGP
---
Performance
(all approaches solve problems)

Predicting M-G chaotic Time Series
RMS error
Mean
Linear GP Nordin 2XO
1.60-5.37
3.79
Tree GP 2X0 500gens
1.08-3.78
2.41
Nuclear Protein prediction (holdout set)
Discipulus
78-82%
80%
Tree GP 2X0 50gens
80-83%
82%
---
Evolution of Nuclear Protein Prediction Accuracy
Evolution of Protein program Size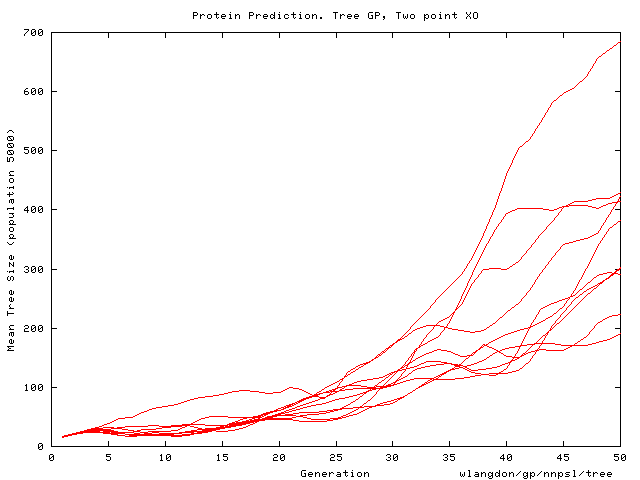 Size of Repeated Tree Fragments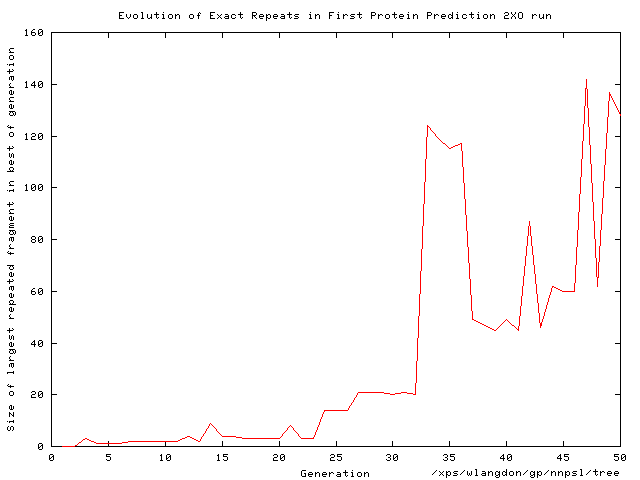 Repeated Tree Fragments



Red 128 Blue 85 Green 79 Grey 11-63
---
Repeated Subtrees



Red 39 Blue 19 Green 15 Black 11 Grey 7
---
Largest Repeats M-G and Protein
Fraction of Program made of Repeated Subtrees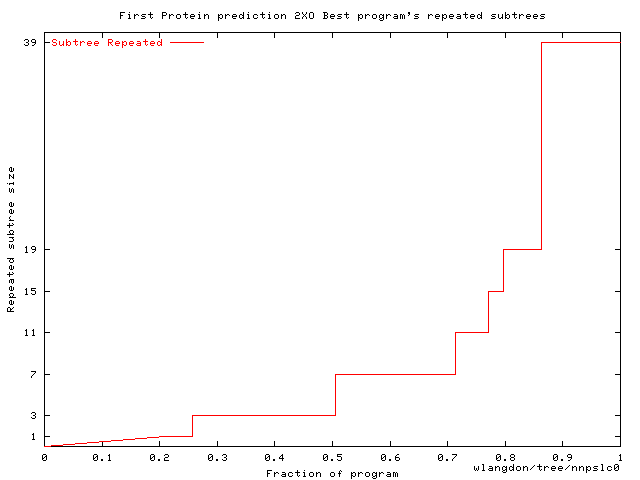 Semantically repeated subtrees
"Fitness" of Subtrees
Function and terminal set have do not have side effects. Therefore each subtree can be evaluated as if it where the whole program.
Use full fitness measure.
Calculate correlation with training data.
Plot anti-correlation and anti-fitness as if correlated or as if fit.
Entropy first Protein prediction run



In most cases variation across the training data increases monotonically from the leafs (bottom) to the root (top).
---
Subtree Fitness in first Protein prediction run
---
Important nodes first Protein prediction run



Black changes >10 training cases
---
Repeated Subtrees



Red 39 Blue 19 Green 15 Black 11 Grey 7
---
Discussion
In trees, can get diffuse introns whereby whole program depends only on fraction of tree. Not classic introns, since most functions do depend on both arguments.
Crossover evolves trees similar fractal shape properties as random trees BUT
Repeats not random.
Many subtrees have high fitness and pass information towards root, BUT
Much of program can be discarded with little impact on fitness
Genetic programming on simple problems assembles complete solutions by gradually, randomly, reusing existing partial solutions to get small improvements, rendering existing parts less important.
Conclusions
GP is putting together fit subtrees
On different problems and different GPs (2 linear and 2 tree) where size is not constrained, repeated sequences/subtrees/fragments emerge from crossover
Repeats cover large fraction of fit programs.
This is an example of emergence.

Are there examples in your EA of effects (which were not pre-programmed) which spontaneously evolved?
---
---
More information
More information on GP
http://cswww.essex.ac.uk/staff/langdon/

Foundations of GP, Springer, 2002
GP and Data Structures, Kluwer, 1998

http://liinwww.ira.uka.de/bibliography/Ai/genetic.programming.html
http://www.cs.ucl.ac.uk/staff/W.Langdon/lisp2dot.html
References:
GP Parameters for Mackey-Glass
time series prediction
Function set: MUL ADD DIV SUB operating on unsigned bytes
Terminal set: Registers are initialised with historical values of time series. D128 128 time steps ago, D64 64, D32 32, D16 16, D8 8, D4 4, D2 2 and finally D1 with the previous value. Time points before the start of the series are set to zero. Constants 0..127.
Fitness: RMS error
Selection: non elitist, tournament size 7. Pop Size 500
Initial pop: ramped half-and-half (2:6) (50% of terminals are constants)
Parameters: 50% mutation (point 22.5%, constants 22.5%, shrink 2.5% subtree 2.5%). Max tree size 1000. Either 50% subtree crossover or 50% size fair crossover (90% on internal nodes), FXO fragments 30 [Langdon,2000]
Termination: 50 generations
Nuclear v Non-nuclear Protein Prediction