<!img src="http://bioinfadmin.cs.ucl.ac.uk/jones/images/DTJ_web_pic.jpeg" width="200" alt="">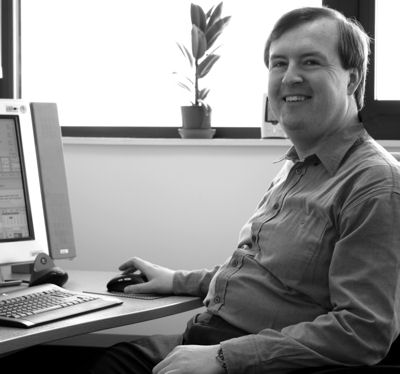 <- Click this image to see it move!
Professor David Jones

Welcome to my home page at University College London. I am currently Professor of Bioinformatics and Head of the Bioinformatics Group in the Department of Computer Science. I am also Director of the Bloomsbury Centre for Bioinformatics, which is a joint Research Centre between UCL and Birkbeck College and which also provides bioinformatics training and support services to biomedical researchers. My appointment is held jointly with the Department of Structural and Molecular Biology, although all mail should be addressed to the Computer Science Dept. as shown below.
Contact Details

Prof. David T. Jones
Department of Computer Science
University College London
Gower Street
London
WC1E 6BT
United Kingdom.

Tel: 020 7679 7982 (+44 20 7679 7982)
FAX: 020 7387 1397
E-mail:

NOTE: my mailbox is aggressively spam filtered - e-mail sent from unknown Hotmail/Yahoo etc. addresses or sent in HTML format or with binary attachments may not get through.
---
Research interests

My main research interests are in protein structure prediction and analysis, simulations of protein folding, Hidden Markov Model methods, transmembrane protein analysis, machine learning applications in bioinformatics, de novo protein design methodology, and genome analysis including the application of intelligent software agents. New areas of research include the use of high throughput computing and Grid technology for bioinformatics applications, analysis and prediction of protein disorder, expression array data analysis and the analysis and prediction of protein function and protein-protein interactions.


I was also one of the founders of UCL "spin out" company Inpharmatica Ltd. The company, which at one point employed over 100 people, was bought by Galapagos NV in 2007. More on Inpharmatica here and here.
---
Publications
---
Teaching

I coordinate the "Intelligent Systems in Bioinformatics" module (GI10) on the M.Sc. Intelligent Systems degree. I also contribute lectures to the 3rd year UG Bioinformatics module (BIOC3010) in the Dept. of Biochemistry.
---
Editorial boards

I currently serve on the editorial boards of the following journals: Proteins: Structure, Function and Bioinformatics, Advances in Bioinformatics, BioData Mining and PLoS ONE.
---
Funding

We are grateful to the following organisations for financially supporting our research:
BBSRC , EPSRC , MRC , The Wellcome Trust , The Royal Society , The European Commission , AstraZeneca , GlaxoSmithKline , Sun Microsystems
---
Links
PSIPRED (secondary structure prediction, fold recognition and transmembrane topology prediction server)
MEMSAT (transmembrane prediction software)
Department of Computer Science Home Page
UCL Research Department of Structural and Molecular Biology
The Institute of Structural Molecular Biology
University College London Home Page