---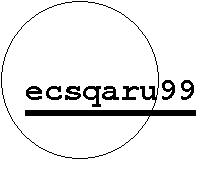 The Fifth European Conference on Symbolic and Quantitative Approaches
to Reasoning with Uncertainty
Conference registration
---

The conference fee is 150 UK pounds if you register by Friday 11 June. After this date, the conference fee is 180 UK pounds. Payment can be made by credit card (Visa or Mastercard), or a cheque drawn on a UK bank, or a Eurocheque.

The conference fee will cover entrance to tutorials, workshops, main conference, unlimited coffee and tea during the day, a copy of the LNCS proceedings, buffet lunch on Wednesday, and a drinks reception on Wednesday evening.

In addition, there is a Conference Dinner at Simpson's Restaurant (on The Strand). It is a traditional English restaurant. The dinner with wine costs 40 UK pounds. It is a set menu with a vegetarian option. Bookings for this need to be made by Friday 11 June at the latest.

To register, please complete the conference registration form and send it to Tony Hunter via email (a.hunter@cs.ucl.ac.uk) or fax (+44 171 387 1397). Cheques need to be made payable to "University College London".


---

Return to the ecsqaru99 conference homepage


---
---