---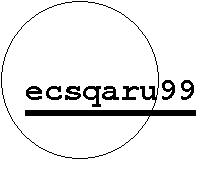 The Fifth European Conference on Symbolic and Quantitative Approaches
to Reasoning with Uncertainty
Call for papers
---
Topics of interest
Topics of interest including the following areas:

Theoretical results, algorithms, and applications that address the unification and integration of different approaches are especially encouraged.

---
Programme Committee
The Conference and Program Chair is


The Programme Committee is composed of the following topic chairs.



---
Submission arrangements
Please limit submissions to a maximum of 10 pages, preferrably in LNCS format. Details on the LNCS format, including a Latex .sty file, can be obtained from the LNCS homepage.
.
To submit a paper, please send it as an unencoded postscript file by email, or post four copies of it, to Tony Hunter at the following address:

Tony Hunter
Department of Computer Science
University College London
Gower Street
London WC1E 6BT
UK

Email: a.hunter@cs.ucl.ac.uk
Phone: +44 171 380 7295
Fax: +44 171 387 1397



---
Submission timetable
The following is a provisional timetable (dated 3 Feb 1998) - we hope to fix this soon.



---
Publication of proceedings
We are planning to publish the Ecsqaru conference proceedings in the Lecture Notes in Computer Science Series by Springer. All the previous Ecsqaru conference proceedings have been published in this series.

In addition, we are planning a special issue of the Knowledge Engineering Review, published by Cambridge University Press, to follow the conference to cover key trends in the field.


---


Return to the ecsqaru99 conference homepage



---
---