Anthony Hunter
Framework for Computational Persuasion
This is a UK EPSRC-funded project starting in early 2016 and running for 36 months to develop a framework for computational persuasion to support behaviour change. The development of tools for behaviour change is a big topic at the moment to help people have healthier lifestyles (e.g. eat less, drink less, do more exercise, etc) and to be better citizens (e.g. don't text and drive, use less electricity, recycle, etc). Our approach is to use knowledge representation and reasoning techniques, together with computational models of argument, to offer an argument-based approach to persuasion. For more information use the following link, or email anthony.hunter@ucl.ac.uk.
Argumentation in Medicine
This is a long-term project investigating the use of computational argumentation for analysing and aggregating clinical evidence for making recommendations. It is a collaborative effort with clinicians (Matt Williams and Zi Wei Liu). It started with funding from Cancer Research UK and from the EPSRC.
Background
I have a BSc (1984) from the University of Bristol, and an MSc (1987) and a PhD (1992) from Imperial College, London which was supervised by Dov Gabbay. I was a research fellow at the IT Research Institute at the Univesity of Brighton from 1987 to 1989, and a research associate in the Department of Computing at Imperial College, London, from 1989 to 1996. Since 1996, I have been in the Department of Computer Science at University College London. Currently, I am Professor of Artificial Intelligence, and head of the Intelligent Systems Research Group, in the UCL Department of Computer Science.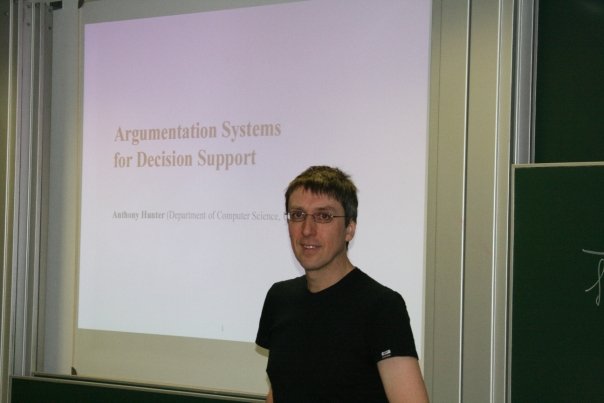 My research is in the area of knowledge representation and reasoning which is a branch of artificial intelligence. More specifically, I am interested in the inter-related topics of computational models of argumentation; Knowledge merging and aggregation; and measuring and analysing inconsistency.
Further information
Contact details
Department of Computer Science
University College London
Gower Street
London WC1E 6BT
UK
Tel: +44 20 3108 7113
Fax: +44 20 7387 1397
Internal: 57113

anthony.hunter@ucl.ac.uk