Saturday 20 October 2001
Shahid met Ari and Me at Hayes and Harlington BR rail station (almost at 08:01) and drove us to Chipping Campden. Where we met David Charles and then David Esp.
Chipping Campden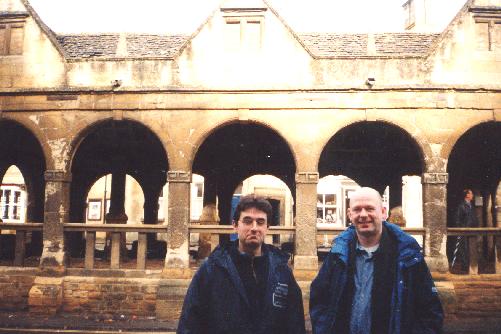 Ari Sarafopoulos and David Charles

Shahid Shah and Ari Sarafopoulos
Cotswolds Way
Climbing north out of Chipping Campden and then turning left along the Cotswolds Way.

David Charles, Shahid Shah, Ari Sarafopoulos and David Esp
After climbing the Broadway tower (N52:01:27 W1:50:08 WGS84) on the Cotswolds way, we had lunch in the Cafe at the Broadway Tower Country Park, (Telephone 01386 852390)
Returning to Chipping Campden via a rather less picturesque southerly route (A44 and B4081).
Dispite rain enroute and back we had no rain on this walk.