Virtual London
---
Current Work | Existing Models | Resources
---
We are interested in a number of aspects of Urban Environment models :
Large-Scale Rendering including

level of detail
image-based rendering
visibility computation

Model Maintenance

Procedural generation of models
Integration of models from different sources
Run-time distribution
We are currently building new city models for use on the City project within the Equator IRC. For the purposes of Equator we are specifically interested in model maintenance and on-line access from mobile sources.
Since the original models were built, much better GIS data has been provided, so building outlines, heights, pavements etc... will be much more accurately modelled.
The original London Demonstrator models (see below) are still used for worked on dense crowd simulation and visibility research.
---
For the COVEN Project we built a single integrated system that had a 17x10km generated 3D model with inserts modelled at higher resolutions. This was known as the London Demonstrator. It was novel for a number of reasons:
Its being built on a generic VR platform (DIVE) meant that it was easy to support collaboration and interaction.
The scalability extensions were scriptable in Tcl, so it was possible to integrate several simple visibility techniques and have higher-level scripts reason about when to use each technique.
Support for a semi-hard frame rate limit. Utilising some crude but effective adaptive clipping techniques.
Extensive use of aura/focus/nimbus and spatial partitioning to dictate awareness between users.
Within the application we integrated a build mode that allowed us to run the application from online resources (e.g. VRML models), optimise the graphics (material, triangle-stripification, linearization), and save as binary compressed internal format. The resulting models could be loaded much faster across across a network (total resources came to 250M).
Dynamic, context-sensitive user interface. This is still unusual in VR toolkits.
The following pictures show the extent of the model. These parts were built by an automatic process from the GeoInformation Cities Revealed data set for London.
Certain parts of the model were modelled in greater detail. The UCL Pearson building was modelled in AutoCad, other parts in Canoma. How to integrate models from such disparate sources and have them relit to look consistent is an unresolved problem.
When built (1999), the application was targetted at SGI Indigo or Onyx-class performance. The following snapshots show the application in action and demonstrate the frame-rate limiting.

Of course now, this class of performance is achieved on consumer hardware. The following pictures are taken from a 800MHz Pentium machine with a GeForce2 card. The 2nd shows the detailed local model.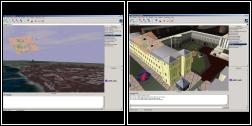 Note though that it is still easy to hit the polygon or pixel fill limit, and it will be a few years before machines can render the whole model. Well before that happens, we will build bigger models.
The London Demonstrator served as a test-bed for crowd modelling and interaction experiments as the following snapshots show. You can also see a snapshot of the Pearson building model.

The DIVE London Demonstrator application itself is not under development at this time. Since it is such a complex application, we use it to stress test revisions and ports of DIVE itself.
---
FAQ

Can I have the whole London model?

Sorry, but because the base 2D data is licensed, we can not give away the 3D data set. This may change for modern versions of the. You are welcome to download the UCL area part of the model.

Where can I get the UCL Area model?

This can be browsed as VRML or as an interactive demonstration within DIVE here.

Papers

A.Steed and E.Frecon, "Building and Supporting a Large-Scale Collaborative Virtual Environment", Proceedings of 6th UKVRSIG, University of Salford, 13th - 15th September 1999, p59-69. This paper won the best paper prize.
A.Steed, E.Frecon, D. Pemberton and G. Smith, "The London Travel Demonstrator", Proceedings of the ACM Symposium on Virtual Reality Software and Technology, December 20-22nd 1999, pp. 50-57, ACM Press, ISBN 1-58113-141-0
A.Steed

Urban Models at UCL
---
Queries about the models and applications: Anthony Steed, A.Steed@cs.ucl.ac.uk